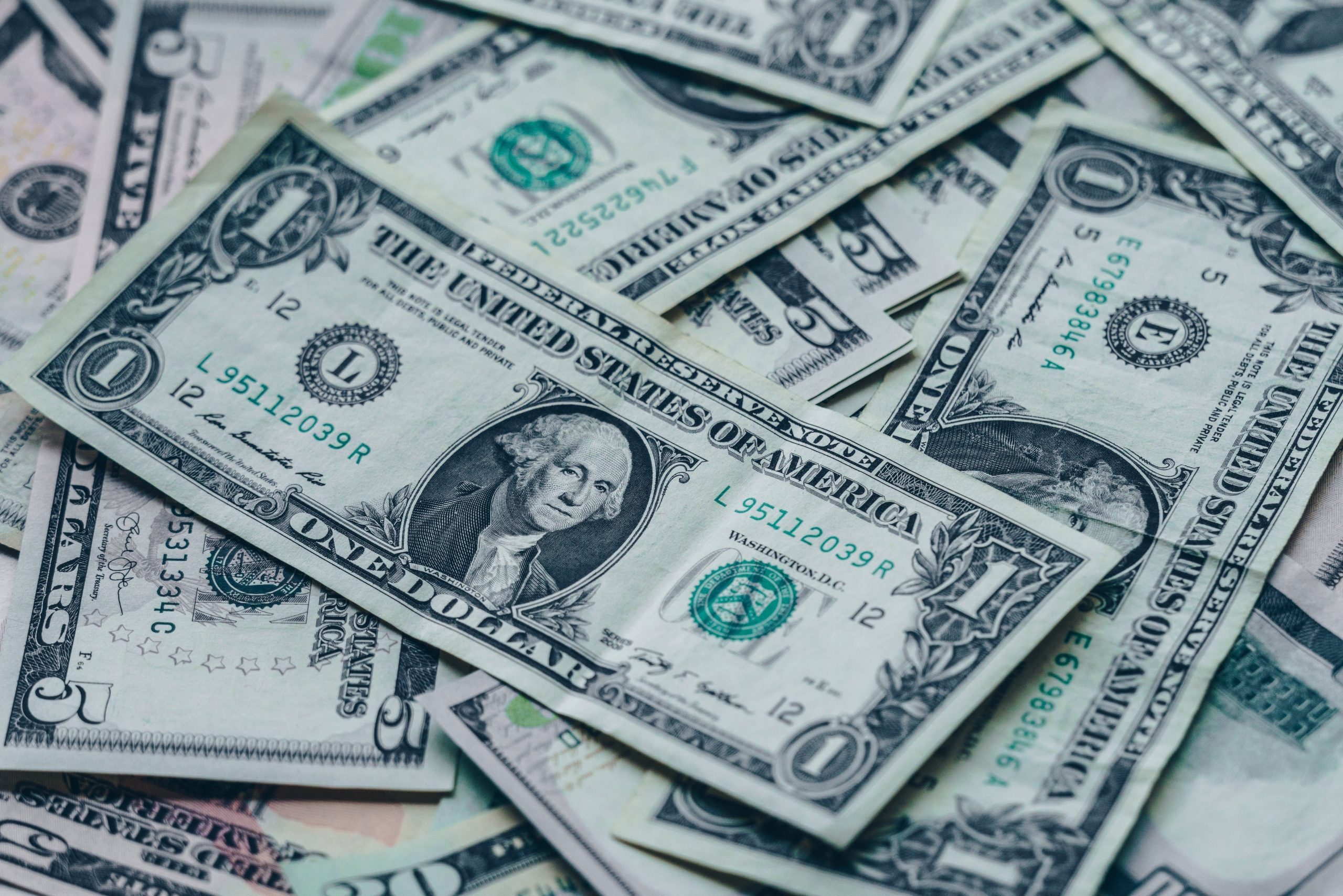 The Deposita approach is powered by KOYUS®, our market leading cash management software platform. Built to support us in delivering superior performance and service, KOYUS® is helping us to revolutionize how cash is managed today.
Using transactional data from across your cash operations, KOYUS® leverages sophisticated algorithms, machine learning and artificial intelligence to help our teams drive out waste, cost and risk from across your cash ecosystem. With modules covering cash inventory management, reconciliation, risk, CIT management, remote device management and training, to name a few, KOYUS® truly is a powerful tool for optimizing both your cash operations and our proactive service model.
Explore the elements that bring KOYUS® to life below.
Transforming Data
Our solutions leverage cash handling devices, such cash recyclers and smart safes, as well as your existing technical infrastructure, including SCOs, POS and Accounting systems, to capture and process transactional data from across your cash operations. Using cutting edge technology, KOYUS® then transforms thousands of daily transactions per store into meaningful insights and actions.
KOYUS® uses sophisticated algorithms to help our teams drive inventory, CIT and process optimization; we leverage machine learning to forecast anticipated cash and service needs with extreme accuracy and increasingly, we're using artificial intelligence to predict future trends and impacts.
Always at the forefront of new technological developments, with KOYUS® we're setting a new standard across the cash management industry.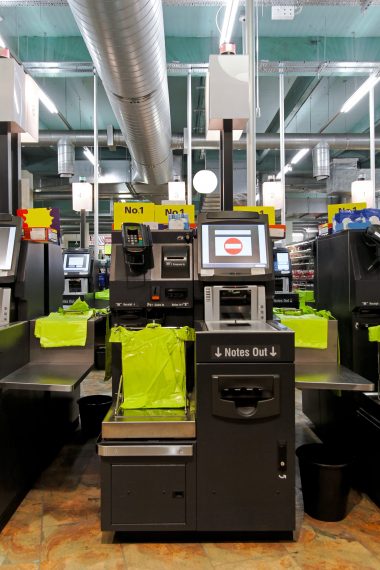 Customized Integrated Solutions
Our extensive integration framework incorporates an array of systems and devices from SCOs and check scanners to POS and accounting systems. Our expert technical team, and our wide reaching, and often exclusive, partnerships with many technology providers mean that we are able to move swiftly to build customized integrated solutions. 
By integrating additional systems into KOYUS®, a consolidated view of your cash ecosystem is created. Not only is this powerful for optimizing inventory and decision making but a full picture also provides the basis for automating some of your most time intensive and costly activities, such as reconciliation.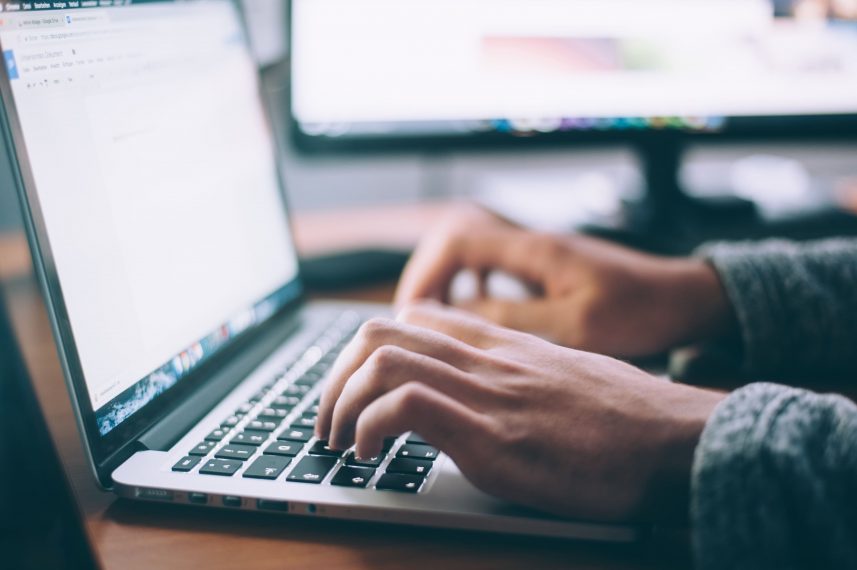 Cash Optimization
The fundamental driver for first building KOYUS® was cash optimization. The realization that being able to understand true cash needs and usage was pivotal for optimizing the flow of cash through operations led us to make significant investments in making KOYUS® the powerhouse it is today.
Today, our market-leading Inventory Management Methodology means we can forecast cash needs dynamically to a great degree of accuracy, down to the denomination and individual till. Such optimization has ripple effects across our clients' entire cash ecosystem.
As a result, we are helping our clients to realize significant benefits; maximizing labor efficiencies, reducing cash processing volumes, limiting cash leakage, reducing CIT costs and improving their working capital.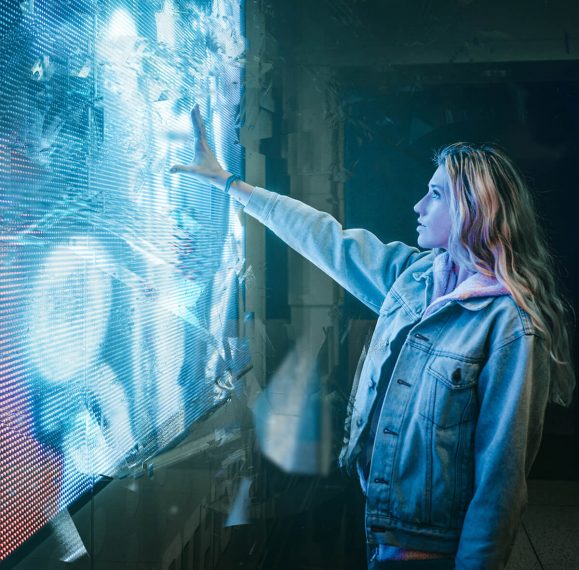 Proactive Support
Deposita capitalizes on information from KOYUS® to provide proactive support to your stores and teams. This ranges from a day-to-day service perspective, like passing data to banks, monitoring inventory levels or identifying training needs at a specific store; through to a strategic view, such as identifying a project opportunity to further protect profits across your entire estate or making recommendations for the management of coin.
If anything looks out of 'normal' parameters or suspicious, KOYUS®' alerting capability will also be triggered to inform teams that investigation or action is needed, limiting the impact and ultimately protecting your profits.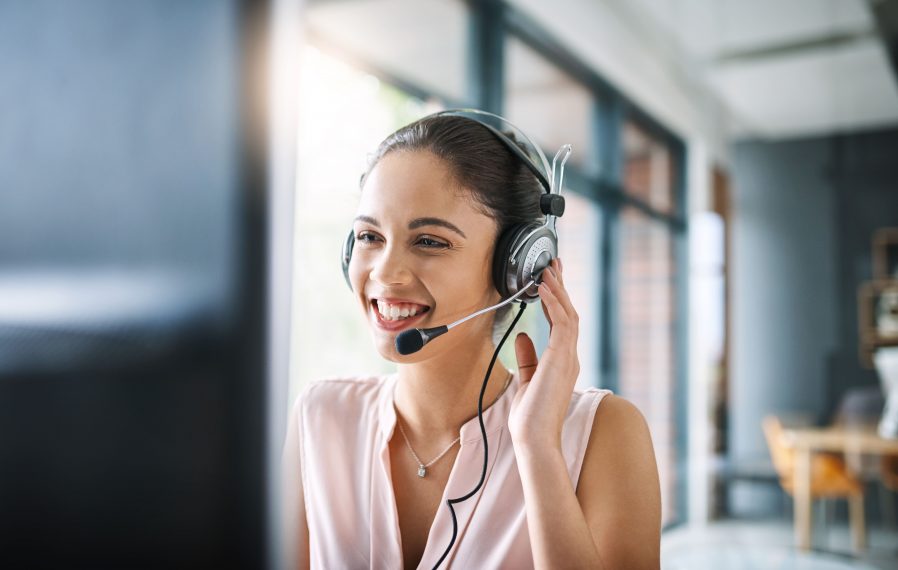 remote management
Deposita solutions leverage cash handling devices, such as cash recyclers and smart safes, to automate basic accounting functions and to facilitate the capture of in-store transactional data. These are complex devices, requiring specific configurations and oversight to operate to meet specific stores needs.
Through KOYUS®, the Deposita team are able to make changes to device configurations, settings and software remotely, negating the need for a store visit, which can be disruptive to store operations. Troubleshooting, testing and proactive monitoring can also be performed remotely, ensuring our problem resolution approach within our 7 x 24 x 365 Customer Service Centers is as effective as possible.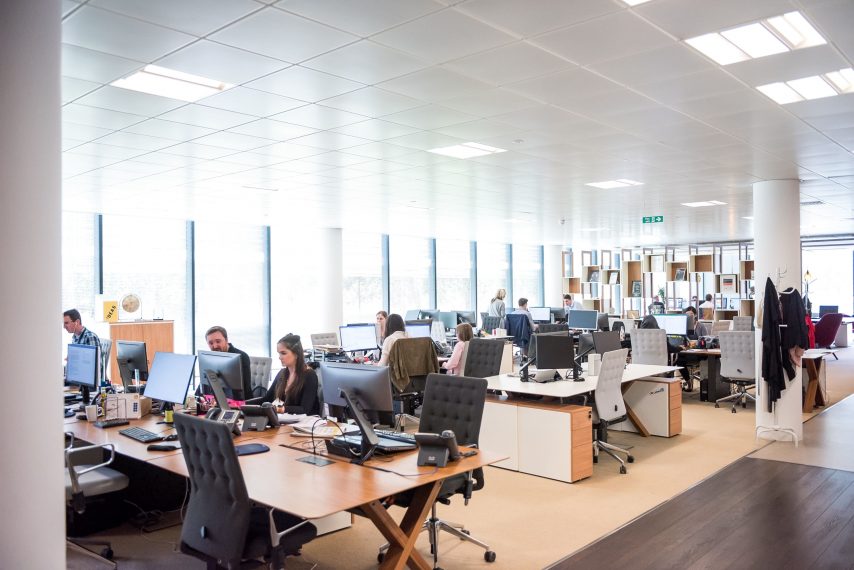 Self Service Reporting and Analytics
KOYUS® helps you to achieve visibility and control across your entire estate via feeding data to Deposita's market-leading self-service portal, Customer Center.
Using data transformed by KOYUS®, Customer Center presents detailed dashboards, reports and transaction logs to provide you with real-time insights and control across your entire end-to-end.
Our goal is to support your teams in executing more informed decision making and in reducing risk to employees, customers, partners, cash and profits.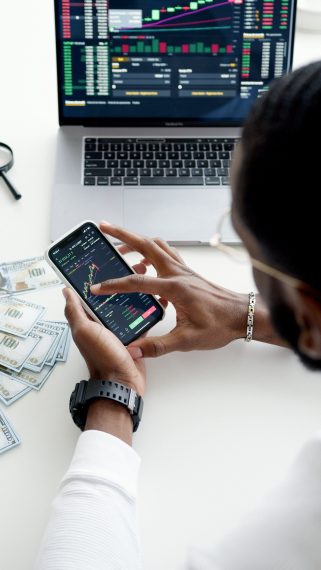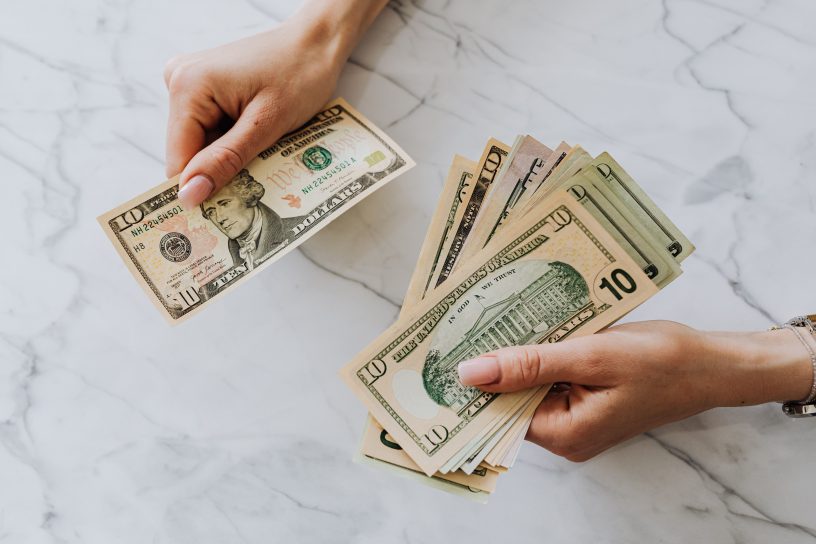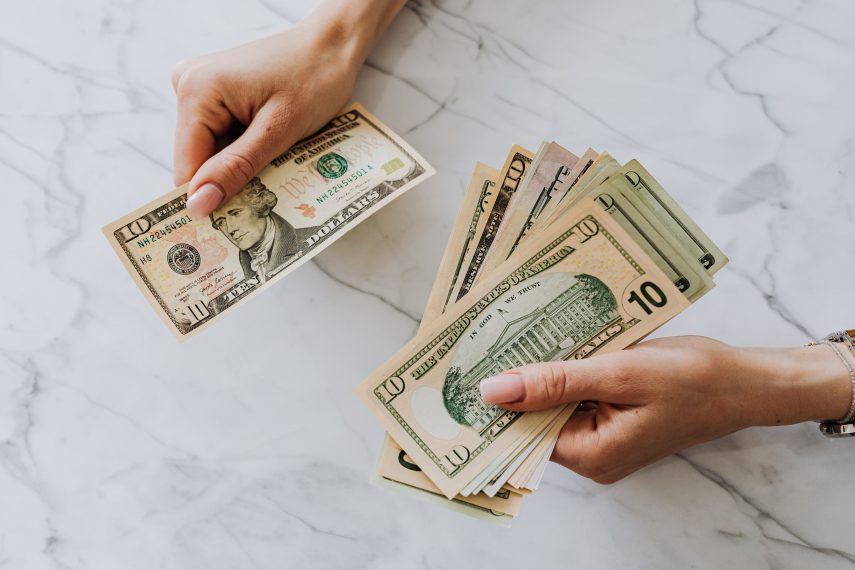 Maximizing Your

Return on Investment
Ultimately, by breaking the silos between parts of your cash ecosystem and understanding the interdependencies between all of its parts, Deposita is able to support you in achieving:
• Labor Optimization
• Working Capital Improvement
• Cash Leakage Reduction
• Reduction in Reconciliation Exceptions
• Reduction in Cash Processing Volumes
• CIT Cost Reduction.
Find out more about how our solution building blocks and enablers come together to help you to achieve tangible results.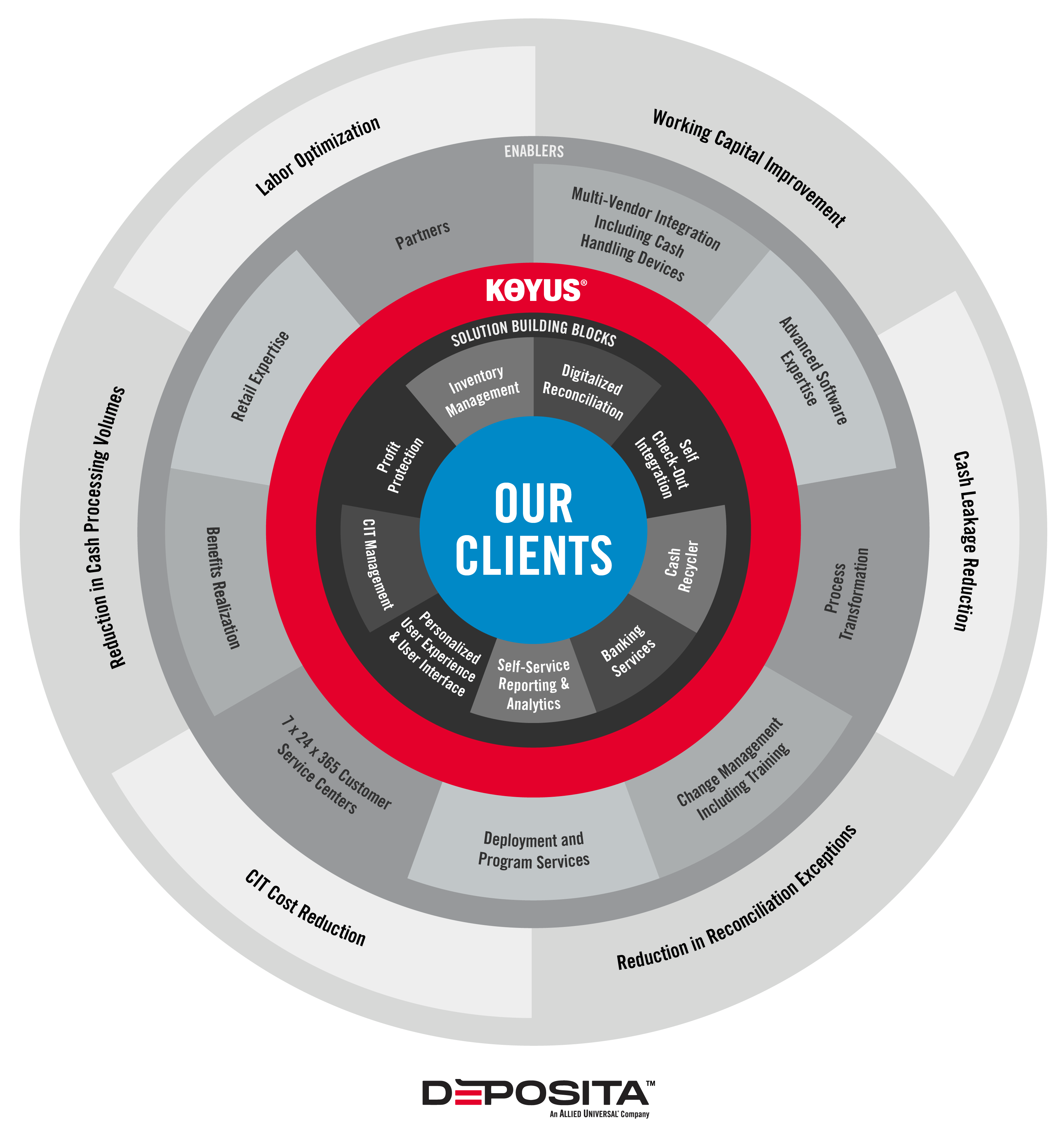 We recognize every organization is unique. That's why our approach is consultative and our solutions are tailored to meet your specific needs. Contact us today to explore how we can work together to achieve your goals.